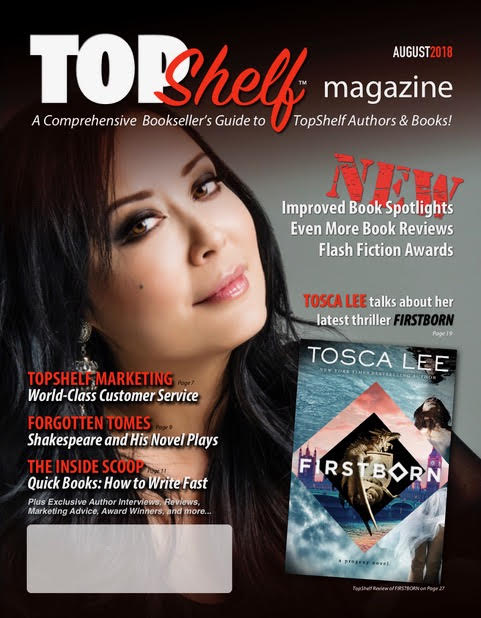 14 Sep

From Top Shelf: An Exclusive Interview with NY Times Bestselling Author Tosca Lee

The following cover story appeard in the August 2018 edition of  Top Shelf Magazine. Read the original article here.

_____________________

Please tell us a little about the real Tosca Lee, something you haven't shared before.

I'm a big geek-nerd—always have been. I grew up on the Isis/Shazam Power Hour, Justice League, Wonder Woman, and Thundarr the Barbarian. When I was a kid, I honestly believed Luke Skywalker was coming for me in his landspeeder. I remember basically feeling like a hostage on this family road trip, looking out the window toward the horizon and thinking, "aaaaany minute now…"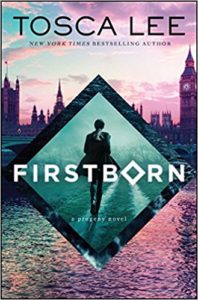 Please tell us about your latest novel Firstborn, and the series it's a part of.
Firstborn is the sequel to The Progeny—the story of 21-year-old Emily Porter, who has recently chosen to undergo an elective procedure to erase the last two years of her memory. Having relocated to the North Woods of Maine, she quickly learns she hasn't gone there to start over, but to hide. Through a series of revelations, she learns she's one of the surviving descendants of historical "Blood Countess" Elizabeth Bathory, that she's being hunted—and that everything she erased to protect is what she needs to survive.
It's a breakneck, run-for-your-life, globetrotting adventure about love, survival, and ancient secrets.
What inspired you to write Firstborn?
A fan asked me to consider writing a book on Elizabeth Bathory—a fascinating noblewoman from the 16th Century thought to be the most prolific female serial killer of all time. History calls her a monster. But when you dig a little deeper into her life, all the allegations against her start to smack of conspiracy. I don't know about you, but I love a good conspiracy theory!
I'd just written two historical novels—one about Judas Iscariot, and one about the Queen of Sheba—and wanted to do something fast-paced and contemporary, about living right now, in the only moment that exists: this one. So Elizabeth Bathory's legacy serves as the mythology for this story and its modern, underground European setting.
What is the biggest surprise you've encountered after becoming a published author?
The bonds you forge with your readers, and the privilege of being a part of their lives—lives they often share with me in person or in letters. I'm blown away every time someone writes to me to say that they read one of my books while recovering from an illness, going through a divorce while caring for an ailing parent—or just relaxing. We all need healthy relief from the rigors of this world and it is my great joy to provide that and join them in those moments.
Do you go on book tours?
Less long tours these days, especially since marrying my husband—a former single father—and gaining four young people to raise and love. That said, I love getting out to talk to, hug, and listen to readers, and spilling all the secrets I can think of about writing.
If yes, how might an indie bookstore participate in one?
Simply by reaching out to me or my publisher (Simon & Schuster).
Do you have a favorite conference that you attend? If so, which one?
There are a lot of great conferences that were extremely helpful to me early in my career—many of which I'm honored to teach for today. Depending on what they write, I always recommend writers check out Thrillerfest, the University of New Mexico Summer Writer's Workshop, Pike's Peak Writer's Conference, Realm Makers, San Diego ComicCon, or American Christian Fiction Writers, among others.
Have you ever been a part of a writers workshop or group? Was it helpful?
I haven't been part of a formal writer's group per se (though for those looking, writer's conferences can be very helpful in this regard). What I ended up with is a group of author friends I know I can call upon any time for support, advice, or to laugh at any particularly ugly sentence from my work in progress I share with them and say, yeah, it really does suck.
What is the most difficult part of your craft?
The first draft. I have OCD, and it's very hard for me to enter into the phase of absolute mayhem and chaos—not just in my manuscript, but life, as appointments, bills, and social obligations fall by the wayside.
On the flip side, what's the best part about what you do?
Working in my pajamas.
What's the last book you read that simply could not be put down?
Dark Matter by Blake Crouch. Mind-bending stuff.
Do you have any advice on how to organize successful book signing events?
Just remember you're going there to sell books, sure, but you're really there to talk to people. To meet and connect with readers and form relationships with the bookstore staff. Booksellers meet tons of authors. The ones who stand out—are the ones who write great books and are personable and friendly.
Do you frequent any independent bookstores? If so, do you have any favorites?
We have a new one called Francine and Finch in my hometown of Lincoln, Nebraska, and one of my favorite signings a couple years ago when The Progeny came out happened at Malaprops in Asheville, North Carolina.
I also love getting to connect with independent bookstore owners and employees at events for the Southern Independent Booksellers Alliance, the Southern California Independent Booksellers Association, and the Heartland Fall Forum.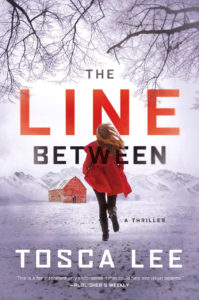 What's next for Tosca Lee?
My new thriller, The Line Between, out January 29, 2019. (Up for pre-order now!) Here's the teaser:
In this frighteningly believable thriller from New York Times bestselling author Tosca Lee, an extinct disease re-emerges from the melting Alaskan permafrost to cause madness in its victims. For recent apocalyptic cult escapee Wynter Roth, it's the end she'd always been told was coming.
When Wynter Roth is turned out of New Earth, a self-contained doomsday cult on the American prairie, she emerges into a world poised on the brink of madness as a mysterious outbreak of rapid early onset dementia spreads across the nation.
As Wynter struggles to start over in a world she's been taught to regard as evil, she finds herself face-to-face with the apocalypse she's feared all her life—until the night her sister shows up at her doorstep with a set of medical samples. That night, Wynter learns there's something far more sinister at play and that these samples are key to understanding the disease.
Now, as the power grid fails and the nation descends into chaos, Wynter must find a way to get the samples to a lab in Colorado. Uncertain who to trust, she takes up with former military man Chase Miller, who has his own reasons for wanting to get close to the samples in her possession, and to Wynter herself.
Filled with action, conspiracy, romance, and questions of whom—and what—to believe, The Line Between is a high-octane story of survival and love in a world on the brink of madness.