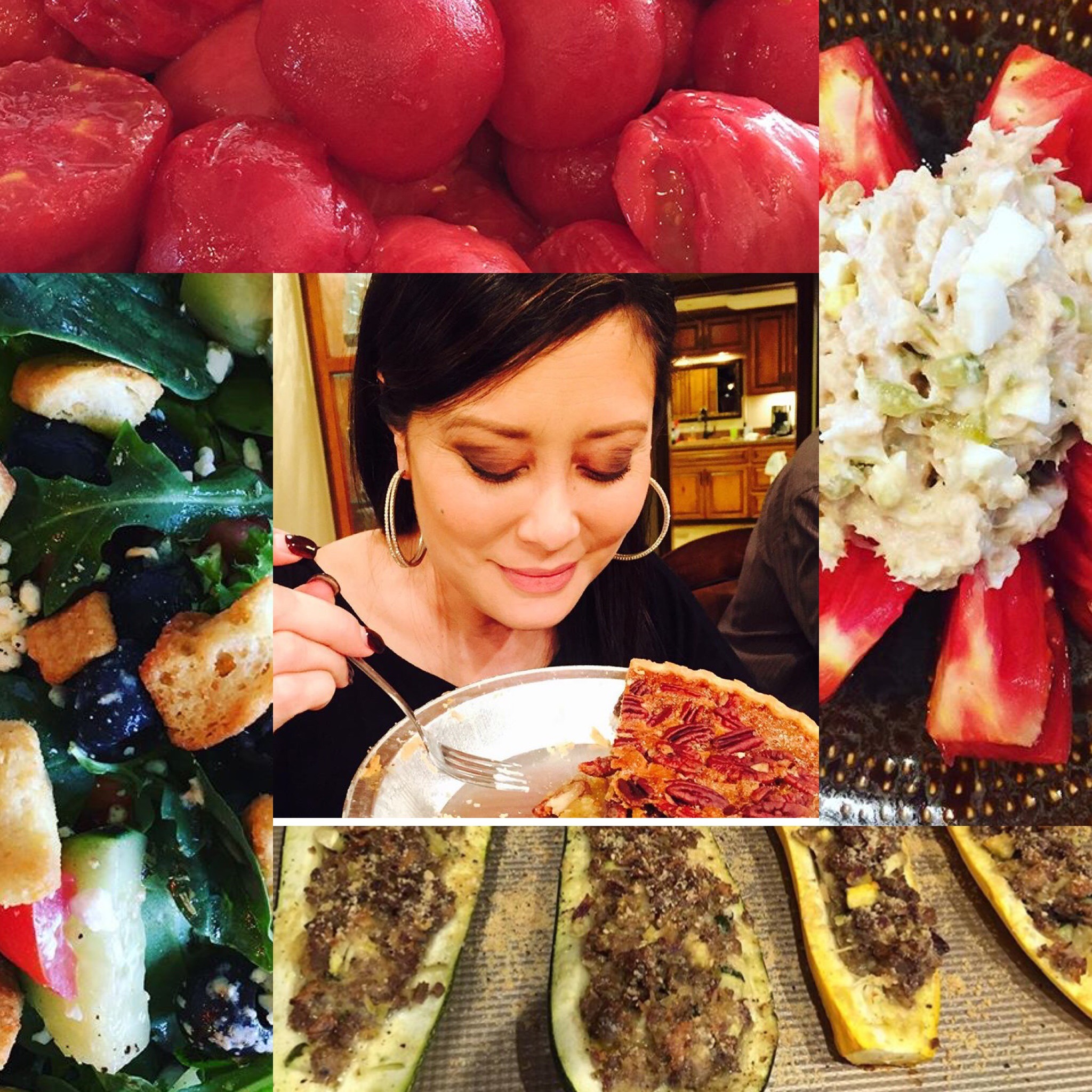 22 Nov

Tosca's Thanksgiving Stuffing Recipe

My step-grandma used to make the most fabulous Thanksgiving stuffing (and, if we were lucky, she made in on Christmas, too). She's no longer with us, and so, given that I used to single-handedly eat half the pan, I took it upon myself to continue the tradition—with a few twists of my own. Yes, it takes some work, but the anticipation along the way is half the fun and with the meat in it, it's practically a meal all by itself.

Note: I've made this so many times now I don't have exact quantities, but never fear—you can't really go wrong, especially if you eat it—I mean taste—along the way. 😉

Tosca's Thanksgiving Stuffing

(Large family size for 8 or more people. For fewer people, do half)

2 Cornish hens or a small chicken, thawed
Fresh or dry sage
Thyme
Bay leaf
Salt
Pepper
2 onions
1 loaf (or 2, depending) French, Italian, or other bread (I don't get very exotic for this)
2 containers (or one large one) mushrooms (this year I'm mixing and matching a few varieties)
1 bunch celery—including leaves
Celery and/or garlic salt
More sage
Any of those giblet things from your turkey you're not using
2 eggs
Butter or olive oil
Chicken broth

The night before, add Cornish hens or chicken, 1 onion (quartered), random giblets (optional), sage, bay leaf, thyme, salt, pepper (and any other spices you love) to slow cooker. Add a little water, set on low for 8-10 hours.

Go to bed.

Wake up to all the good smells. Little chicken(s) will be cooked and falling apart. Awesome. Cool the little chickens on a separate plate and save the juices. When they're cool, carefully debone the meat. Throw away bones and skin (or save the bones to make awesome stock/bone broth in the freezer!).

Heat oven to 350.

Tear or chop up the loaf of bread. Include or exclude crusts, depending on what you like. In a large bowl, toss bread with olive oil or butter, garlic salt, sage, and any other spices you love (I love marjoram, myself). Spread on cookie sheet and bake about 15 minutes, turning as necessary (this is how you make the best homemade croutons, btw.)

In a skillet, heat butter or olive oil. Add chopped celery and the second onion (minced) until just about soft. Add mushrooms (sliced). Listen to your stomach growl and taste a few of those mushrooms for quality control. Decide they need salt and pepper. Taste again. Probably should also have a glass of wine at this point.

In a large bowl, combine croutons, chicken/hen meat, celery, onions, mushrooms. Toss together. Add juices from the crockpot. Taste to check seasoning, add salt/celery salt, sage, and any other spices to taste. Add two beaten eggs and a little chicken broth if needed. You want everything moist but not soggy! (Because otherwise you could just eat the stuff from inside the turkey).

Bake at 350 about 30-40 minutes until the top is crispy and you've been unable to resist the compunction to taste it three or more times.