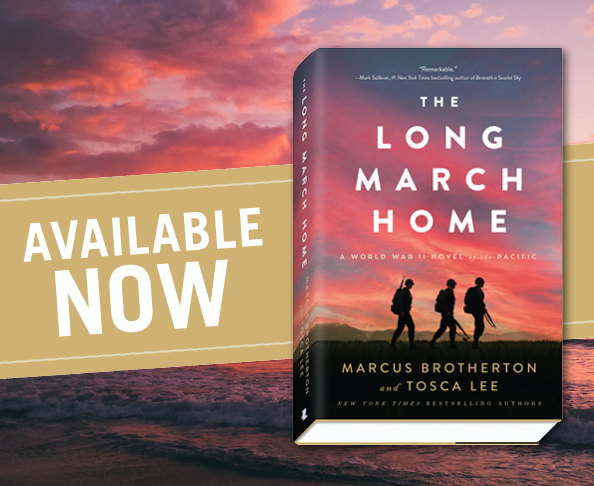 03 May

THE LONG MARCH HOME out now!

Wow, I can't believe it's been four years since my last book release. My co-author, Marcus Brotherton, and I worked a total of twelve years on this story, writing and rewriting, wanting to get it right and do this chapter of history justice. And now we are so excited to bring it to you.

And so… are you ready to go back in time to a simpler era as three best friends grow up in Alabama… and then cross the ocean to journey with the too-oft unsung WWII heroes of Bataan?

Grab a beverage and settle into your favorite reading nook because we've got quite the story for you.

"[A] tour de force."
-Publishers Weekly starred review

"An unforgettable coming-of-age novel… an important and masterful book."
-Historical Novel Society

Amazon: https://amzn.to/3LHJgf3

Kindle: https://amzn.to/448yMwm

Baker Book House (30% off plus free shipping): bit.ly/3NmSxul

Barnes & Noble: bit.ly/3nfJkcu

Nook: bit.ly/3AHNEV5

Indiebound: bit.ly/3oUoPT9

Kobo: bit.ly/3HP365V

BAM: bit.ly/3LjodxR

Christian Book: bit.ly/3oY4zQI

Inspired by true stories, The Long March Home is a gripping coming-of-age tale of friendship, sacrifice, and the power of unrelenting hope.