24 Aug

Progeny… A TV Series?

So you're telling me there's a chance. That's how I feel when I get news that rights to one of my books has been picked up by a television or movie production company. The road from book to film or television is loooonnnnggg and projects often don't gain traction, but…

I'm thrilled that Ed Burns is now attached to a project to create a television series based on The Progeny. This is significant news and I'm grateful to Radar Pictures who has been sheparding this project.

Here's the announcement as it appeared in Deadline Hollywood.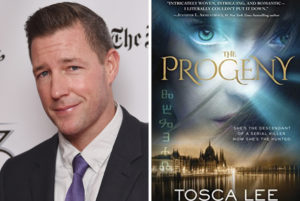 "Edward Burns' Marlboro Road Gang Productions is teaming with Radar Pictures to develop bestselling author Tosca Lee's The Progeny as a television series.
"Lee's genre-bending books bring a modern twist to an ancient mystery surrounding Elizabeth Báthory, the 16th-century countess known as the world's most notorious female serial killer. The story centers on Audra, a regular girl from Maine who is suddenly made aware that she is a direct descendant of "the blood countess." She also discovers that a cabal of global assassins, sworn to wipe out the countess' offspring, are on her trail. Her quest for survival takes her to the underground subculture of costumed rave parties in hidden caves and secret nightclubs of Europe.
"Burns and producing partner Aaron Lubin will executive produce alongside Radar's Ted Field, Michael Napoliello, Mike Weber and producer Maria Frisk. A search is underway for a writer.
"Elizabeth Báthory also is the subject of a drama series project that's been in development at CBS, from Battlestar Galactica alum David Eick and producer Joel Silver.
"Burns and Radar recently teamed on Gang Leader For A Day, an adaptation of Sudhir Venkatesh's best-selling memoir, which is now in development at AMC with Burns set to exec produce and co-star, and Ben Watkins writing the pilot and attached to showrun.
"Burns and Lubin, through Marlboro Road Gang Prods, are in post-production on Burns' coming-of-age, ensemble comedy Summertime. Burns, along with Steven Spielberg's Amblin Entertainment, recently executive produced the TNT period cop drama Public Morals, which Burns wrote, directed and starred in.
"Radar Pictures is in post-production on Jumanji: Welcome to the Jungle and the Jon Hamm film High Wire Act and is developing The Wheel of Time series at Sony Pictures Television."
___________
Rejoice with me in this development and stay tuned for updates.
Please go to Deadline Hollywood and post a comment on the announcement to let them know you want to see this TV series! Leave a comment below and tell me who you'd like to see play Audra, Luka and other characters.